GIS Lab
The department comprises all necessary facilities which include seminar hall, lecture theatre, drawing studio, computer lab, conference room, research room and library. All the lecture rooms/ design studios are equipped with modern audio-visual aid such as interactive smart boards with ultra-short throw multimedia projectors and public address systems. A state of the art GIS laboratory is recently established with latest desktop computers having Core i7 processors to facilitate use of satellite imageries for spatial data analysis and planning. The computers are connected with a high speed server based local network and internet facility. The laboratory is also equipped with modern scanning and printing facilities.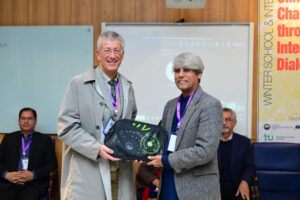 Library and Allied Facilities 
The Department has a well-stocked library, with a wide range of latest books, international journals, reports, and other documents related with the field of City & Regional Planning. The Departmental library was established with the assistance of the British Government. Several new books are added every year. The Department has also got latest mapping/ planning and survey equipment such as global positioning systems and total station, digital planimeters, pantographs, colour plotters, laser jet printers and scanners.
In addition, the equipment like noise level meters for noise pollution studies, spectro photometer for chemical testing of water and flue gas analyzer for automotive and industrial emissions testing are also available. The Department has established state of the art seminar and conference rooms. Both are air-conditioned and equipped with smart boards. Symposia and extension lectures of world-renowned research scholars, professional planners and students' discussion forums are frequently held in these rooms.